2003/2004 Skiiing advice leaflet published
Author: Webmaster Date: 1/15/2004

"The Bristol Orthopaedic and Sports Clinic has produced another ski advice leaflet for all those heading to the slopes this season."
---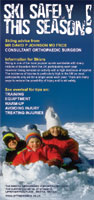 Whether you are a beginner or an advanced skiier / snowboarder read the leaflet before hitting the slopes and find out how to prevent the most common injuries suffered by thousands of skiiers and snowboarders.
The leaflet contains tips on how to prevent injury and information on the symptoms of the most common injuries and how to treat them correctly when they happen.
If you have suffered an injury in the past and are unsure of whether you can recieve treatement to get you back on the piste take a look at the leaflet or contact us for an appointment.
Medical professionals contact us to obtain copies of the leaflet for your practice.
Link: Read the text from the leaflet here..
---