Solskjaer Knee Injury - Mr Johnson's comment
Author: Webmaster Date: 1/21/2004

"Solskjaer could return quickly to full fitness"
---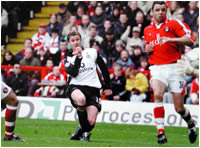 "I read with interest the news article on BBC News online dated Wednesday 21 January 2004 entitled "Solskjaer in new injury blow". I would suggest simple arthroscopic surgery for cartilages should allow soccer players to return to training and playing within one to two weeks and is entirely reliable and successful. The delay in Solskjaer's return to training suggests a more significant problem. With the results of the previous arthroscopy and MRI scanning the extent and nature of the problem should be well known to the treating surgeon".
"Cartilage surgery where a meniscus is partially removed should heal within one to two weeks. Meniscal repair in professional soccer players is of questionable applicability as they do take three months to heal and the complication rate is much higher".
"Nonetheless with appropriate surgery Solskjaer should be able to return to soccer before Easter with simple arthroscopic surgery".
Mr Johnson is internationally recognised as a specialist in knee surgery and sports injuries. If we can be of any further assistance to you please contact Mr Johnson.
Read more about Solskjaer from the Original BBC News Item.
Link: More information regarding arthroscopic surgery.
---