Progressive Concepts in Total Knee Replacement – Belgium.
Author: Webmaster Date: 11/24/2003

"Mr Johnson is the guest speaker and the course moderator to this international course in knee replacement."
---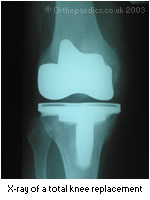 The Progressive Concepts in Knee Arthroplasty course was held in the University Hospital K.U.Leuven. Belgium on 18-19 November 2003. The course host was Professor Johan Bellemans M.D. Ph.D, the Professor of Orthopaedics Surgery. The course featured three operative procedures using the Oxinium total knee replacement, Accuris uni-compartmental knee replacement and the Genesis II knee replacement for a revision total knee replacement.
Mr Johnson said "The course was very well received by the audience who came from as far a field as South Africa.
Link: home
---