The Knee Implant That Lasts 20 Years
Author: Martyn Hale - Daily Mail Date: 7/22/2003

"Younger people denied knee replacements before because the implant would not last long enough set to benefit from the longer-lasting Oxinium Knee implants"
---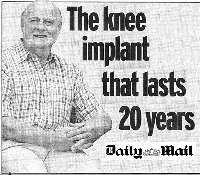 A material used in jet engines and racing cars could bring relief to thousands of people crippled by painful knee joints. At present, many younger people affected by injury or arthritis are denied knee joint replacement surgery because the existing artificial joints don't last long enough. The new implant - made from the metal zirconium - is expected to last nearly twice as long as existing implants because it is extremely tough and resilient.
Surgeons are claiming and 85 per cent improvement over the traditional cobalt metal implants - meaning an implant should last anything between 20 and 25 years. David Whitehurst, from Derby, pictured left, is a keen collector of old racing cars, but he could never guess that something in motor engines could help him walk without pain again.
He has just had the new implant, called an Oxinium knee replacement, after waiting for surgery.
'Over the years I have had a good deal of discomfort in my knee,' he says. 'I have just had to accept it because the surgeons would not operate.'
David, 60, smashed his right knee in the Sixties, just a few years later chronic arthritis set in.
He says, 'I was told I was far too young for an implant because they last only ten to fifteen years before they need replacing. Putting in a replacement is never as good , and so that's why they wouldn't do it. I know from my work as a racing car engineer that the type of material they have used is extremely tough, and I'm confident it will last me the rest of my life.'
The implant has transformed David's outlook. 'At times before the operation, I had been restricted by pain and stiffness in the knee. I am now enjoying working again, I can drive and walk around with no pain at all since the surgery.
Recently I drove to France, which is a long journey and, in the past, would have been quite uncomfortable. In fact, this new knee works better than my normal healthy knee.'
Traditional knee implants tend to be made of cobalt and nickel with a layer of ceramic on top. Both lack durability, with the ceramic wearing away and sometimes breaking off.
Zirconium is not surface-coated with a ceramic and because it is not a bonding of two materials, it is much tougher and lasts longer. Surgeons have always been happy using conventional implants on people aged 60 and over but know they will run into problems putting them into younger people because they will break down too soon.
More than 30,000 knee replacement operations are carried out every year in the UK, so finding a long-wearing implant is also cost-effective for the NHS. The price for private patients is £11,500. The implant is also available on the NHS, but the average wait for replacement knee joint operations is 10 to eleven months.
Link: Contact the clinic for an appointment about using an Oxinium implant
---