British Association of Surgery of the Knee Spring Meeting, Lake Windermere, Cumbria
Author: Mr David P Johnson Date: 4/4/2003

"The Bi-Annual BASK Meeting discusses new topics in knee surgery"
---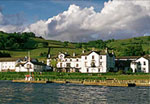 The spring meeting of the British Association of Surgery of the Knee was held at Low Wood Hotel on the shores of Lake Windermere on 4 and 5 April 2003. Mr Johnson attended the very exciting and very successful meeting where 120 knee surgeons from around the country gathered to discuss various research topics. The topics discussed at the meeting included new designs in knee replacement, surgical techniques including the results of arthroscopic, cartilage and ligament surgery and patello-femoral knee problems. Mr Johnson who attended the meeting commented "this was one of the most successful BASK meetings. The weather was superb, the facilities excellent and the views from the hotel across Lake Windermere stunning. The presentations and discussions were of great interest and some important developments in terms of treatment of patello-femoral arthritis were discussed".

One benefit of the facilities was that on one of the afternoons a brisk climb up Langdale Pikes in t-shirts was undertaken by some of the members at the meeting. To do this in a pure blue sky in t-shirts in April was a rare privilege.
Link: More orthopaedics news
---