Womens Great Walk of China becomes an International Great Walk!
Author: webmaster Date: 7/28/2003

"Alternative treks in Cuba, Thailand, Tanzania and Peru organised for Karen Churches, Sian Everingham and Bristol Orthopaedic Clinic Patients Josie Lawrence and Marie Hanley"
---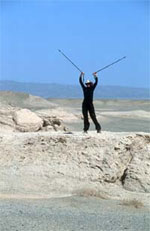 The challenge in aid of Breakthrough Breast Cancer started at Yumenguan in the Gobi Desert and was due to finish 4,000kms and just over 200 days later at the Shanhaiguan Pass on the east coast where the Great Wall meets the Yellow Sea. Unfortunately the SARS virus caused the itinerary to be amended, but Karen and Josie have not given up and will not be defeated. They have vowed to return to China as soon as the Chinese authorities permit them.

In the meantime, Karen, Josie and Sian will continue trekking wherever their feet take them and what started out as the Women's Great Walk of China has now momentarily become known as the Women's Great Walk.

Charity Challenge has organised alternative treks in Cuba, Peru, Mexico, Thailand, and Tanzania to ensure that Karen, Josie, Sian and all the women that have registered to join the Women's Great Walk of China can continue to walk and raise funds and awareness for Breakthrough Breast Cancer.
Link: Read the latest diary entries and all about the latest efforts here
---
© The Bristol Orthopaedics and Sports Injuries Clinic 2003. The Bristol Knee Clinic is a trading name of the Bristol Orthopaedic Clinic Ltd. privacy / copyright | contact | Powered By Create Medical
The availability and marketing of new therapies for erectile dysfunction have greatly increased public awareness of this problem. buy viagra online . buy cialis online . Ain't love grand? (NaturalNews) Fears that men with chronic heart failure might risk their lives by having sex are overblown, and even those taking Viagra may be safe engaging in sexual activity if they are receiving the proper medical care, according to a study published in the journal Mayo Clinic Proceedings. Reduced blood flow to the penis and nerve damage is the most common physical causes.