American Sports Star Returns to top Level Professional Sport After Revolutionary Surgery in Bristol.
Author: Mr David P Johnson Date: 7/6/2003

"Matthew Cappotelli underwent revolutionary "keyhole Surgery" using a new technique developed in Bristol has successfully returned to professional sport."
---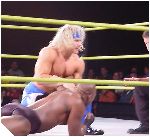 Matthew Cappotelli was a twenty year old American football star living in New York. He played American Football for Western Michigan University as a linebacker before suffering a potentially career threatening injury. The injury prevented him playing sport for a year and he had previously undergone two unsuccessful surgical procedures in America before asking for help from prominent local Bristol Surgeon Mr. David P Johnson. Matthew had suffered with pain in the knee front of the knee during running caused by damaged tendons known as "runner's knee" or patella tendonitis. He had two previous failed operations to his knee and was told by doctors in the US that nothing more could be done. Matt was informed about Mr David Johnson, a leading Consultant Orthopaedic Surgeon working at St. Mary's Hospital in Bristol with a special interest in knee surgery and sports medicine.

Mr Johnson developed and pioneered a revolutionary "keyhole" surgery technique for the treatment of patella tendonitis ten years ago. This has now been adopted around the world as the standard state of the art surgical procedure for this condition. The procedure involves removing scar tissue from around the tendons and bone from the knee cap and the front of the knee. To his amazement, Matt was walking within three hours with minimal discomfort. He returned home to America and underwent a period of rehabilitation and intensive training. He is now twenty three years old and is pursuing a new dream of professional wrestling. He recently won "Tough Enough 3", a national USA professional wrestling televised competition.

Mr. Johnson said that "Matt was a wonderful patient and despite the previous failed procedures undertaken in America has made an excellent recovery. This technique has proved very reliable and is appropriate for many patients. It could be argued that many of our top level sport-people suffering from this condition could benefit from this procedure here in the UK, where the procedure was developed rather than travel to the USA. This would include stars such as some have such as Alan Shearer, Craig Bellamy, Ronaldo and Steffi Graff who's career was ended by this condition".
Link: More information
---
© The Bristol Orthopaedics and Sports Injuries Clinic 2003. The Bristol Knee Clinic is a trading name of the Bristol Orthopaedic Clinic Ltd. privacy / copyright | contact | Powered By Create Medical
The availability and marketing of new therapies for erectile dysfunction have greatly increased public awareness of this problem. buy viagra online . buy cialis online . Ain't love grand? (NaturalNews) Fears that men with chronic heart failure might risk their lives by having sex are overblown, and even those taking Viagra may be safe engaging in sexual activity if they are receiving the proper medical care, according to a study published in the journal Mayo Clinic Proceedings. Reduced blood flow to the penis and nerve damage is the most common physical causes.