Mr Johnson Provides Case Studies for Oxinium Total Knee Replacement Implants
Author: Smith + Nephew Date: 2/3/2008

"The UK's younger population to benefit from state-of-the art knee replacements"
---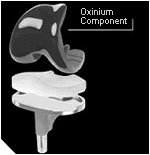 *Update
Mr Johnson and the Bristol Orthopaedic Clinic only use the CEMENTED version of the Oxinium Knee Replacement of which there is a 5 year experience in the USA. There is also a more recent uncemented version of the implant. Less than 1% of the total oxinium patients who have received this uncemented version outside the UK have presented with some need for revision. The uncemented version of this knee replacement has not been used by Mr Johnson.
---
Longer-lasting knee implants
The active, younger population of Bristol who suffer from arthritis or chronic injury can now benefit from knee replacement surgery much earlier in life due to new implant technology, which has recently been introduced into the UK.
More than 30,000 knee replacement operations are carried out every year in the UK and 2,671 of these in the South West region (655 in Bristol), with an increasing number carried out on people under the age of 60. Orthopaedic surgeons have traditionally delayed joint replacement surgery in patients younger than 60 because they do not expect the materials used to withstand the wear placed on them for longer than 10 to 15 years. Replacing the knee the second and third time is much harder and much less likely to succeed.
British company Smith & Nephew has developed a new metallic alloy with a ceramic surface called Oxidized Zirconium, in response to the orthopaedic community's concerns over wear and tear of current implants. After 11 years of development and biomechanical testing, the Oxinium knee implants are now widely available to patients in the Bristol area. Later this year GPs will be able to discuss the new implant at a special meeting to be held in the region.
Mr David Johnson, one of the leading orthopaedic surgeons in the UK, St Mary' Nuffield Hospital, Bristol, who has started using Oxinium with patients he cares for from around the south west region comments, "This knee replacement addresses one of the most critical issues in orthopaedics today and the bottom line is that the lower the amount of wear, the longer the implant will last. We now have a superior implant that is expected to last longer and will allow active, younger patients to benefit much earlier from a replacement knee. This in turn will reduce the amount of suffering a patient often experiences due to a painful arthritic knee."

Case Study: Mr John Kitchener
Mr John Kitchener is a retired seventy-two year old. He was referred to Mr Johnson by his general practitioner in October 2002. John had suffered with increasing problems of osteoarthritis affecting the left knee over the previous two years. His walking was limited to a hundred yards with every step being painful. His left knee regularly gave way and kept him awake with pain at night. He had taken analgesia and anti-inflammatory medication without any great success.
When John first attended Mr Johnson in October 2002, clinical examination demonstrated a 7° deformity of the knee, a significant amount of swelling and instability. He was particularly tender along the inner aspect of the joint. Radiographs demonstrated severe osteoarthritis.
John accepted Mr Johnson's advice that a knee replacement was necessary. This was undertaken at the Nuffield Hospital in Bristol on 25 November 2002 using the new Oxinium total knee replacement. He was discharged home to the care of his wife ten days later and returned to see Mr Johnson in January 2003.
Only six weeks after the operation, John was noted to have now made excellent progress, indeed, much faster than usual. His range of motion then was from 0° to 115°, greater than the usual range of knee bend at this stage. He did not require further pain relief tablets and was walking at least half a mile a day and was very happy with his progress.
Mr Kitchener described the success of the operation, "The Oxinium implant made it possible for me to have knee surgery that could last longer than traditional implants. I was in such dreadful pain before the operation, only managing to walk a few hundred yards, but each step was very painful. It's been a few months since the operation and after only six weeks I was able to walk again relatively pain free. I'm now doing really well and can walk at least 5 miles a day and do my gardening - I have been able to just get on with my life again."
Mr Johnson says "John's progress was remarkable. His very rapid recovery required only minimal assistance from the physiotherapist and his return to walking after many years of difficulty only six weeks following surgery was very gratifying. I very much hope John can now enjoy life again to the full benefit of his new knee."

Case Study: Mrs Ann Taylor
Mrs Ann Taylor is a District Nurse aged 59. She presented to Mr Johnson through her chiropractor. Ann had suffered with both knees causing increasing pain over the previous four years. The initial problem followed a fall 10 years earlier. Her knees were stiff and she could not kneel, they were painful towards the end of the day and particularly when twisting or walking on stairs. She was not able to undertake a round of golf without significant pain.
Initially, arthroscopic surgery was undertaken in November 2002 when Ann was admitted to the Bristol Nuffield Hospital as a one night stay. Unfortunately, at that time, the arthroscopy demonstrated significant arthritis in the left knee. As a result of this, Ann underwent a left total knee replacement using the new Oxinium Profix knee in mid-January 2003.
Following surgery, Ann made excellent progress and was discharged from hospital only a week following the procedure. She had regained 100° of knee movement after three weeks. At that stage, she had already reduced her requirement for analgesia to two Paracetamol tablets a day. Ann was delighted with her progress, and with regular exercise, physiotherapy and hydrotherapy sessions was unrestricted in undertaking most daily activities nine weeks following surgery and was able to play golf again after 12 weeks.
Mrs Taylor commented on the success of the operation, "The Oxinium implant made it possible for me to have knee surgery at a young age. With a traditional implant, I would probably need a replacement implant later in life. It's only been a few months since the operation so it is still early days, but it is important to have good occupational health support such as physiotherapy, regular exercise and hydrotherapy to make sure the joint works properly. I'm now doing really well and have been able to get on with my life again as I'm out playing golf 12 weeks after the operation, walking around and I don't have the same degree of pain I had before surgery."
Mr Johnson suggested that "Ann's progress was excellent. She had no problems following the procedure, other than normal post-operative problems such as pain and swelling which resolved over time. Her rapid return to daily activities by three weeks and to golf by twelve weeks shows the excellent progress she has made. I now hope that she will experience up to twenty years of unrestricted benefit from this knee. Once again, the speed and extent of her recovery supports the view that use of the Oxinium Profix knee may be a significant advance."

Link: Oxinium Information
---