Surgeon Warns of Ski Bindings Danger
Author: Mr D Johnson Date: 1/20/2003

"Ski bindings can be a danger to skiers, particularly women."
---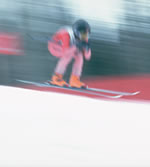 Ski bindings connect the skier to the ski but the setting is adjustable depending upon the weight and ability of the skier.

In a fall, the binding must release the skier to prevent injury - therefore the correct release setting of the binding is of vital importance in order to prevent injury.

A recent survey in Europe has shown that the current international standards and the manufacturers' instructions were badly applied or simply unknown to a majority of ski equipment renters (14th Symposium of Ski Trauma and Skiing Safety).

Independently, it has been determined that the incidence of anterior cruciate ligament rupture has been increasing in skiers, particularly women.

The anterior cruciate ligament is the main stabiliser of the knee and commonly injured in skiing accidents. Injury results in knee pain, swelling and particularly instability.
Surgical reconstruction is a reliable procedure in the hands of specialist knee surgeons.

A new standard of binding setting has been published in France in an effort to reduce the binding setting, allow an easier release of the binding in a fall and therefore prevent many skiing injuries.

A specific table for binding settings has been established for women on the basis of weight, size of the shoe, with a correction factor correlated to the ability of the skier.

Skiers when renting skis should ensure that the correct new ISO standard is used by the rental shop.

Mr Johnson said "a significant proportion of British skiers are injured each year whilst skiing. Most commonly this involves ligament injuries to the knee. Whilst this is due to many factors, perhaps the most important are fitness and the ski binding setting".


Mr Johnson recommends that all skiers should undertake a full fitness programme for at least four to six weeks prior to their holiday and he suggests that skiers should ensure that their bindings are correctly set.
If the skier has not skied for some time, reduce the setting by 1-2 notches in the first few days. In this way, the risk of injury can be significantly reduced.
Link: More orthopaedics
---
© The Bristol Orthopaedics and Sports Injuries Clinic 2003. The Bristol Knee Clinic is a trading name of the Bristol Orthopaedic Clinic Ltd. privacy / copyright | contact | Powered By Create Medical
The availability and marketing of new therapies for erectile dysfunction have greatly increased public awareness of this problem. buy viagra online . buy cialis online . Ain't love grand? (NaturalNews) Fears that men with chronic heart failure might risk their lives by having sex are overblown, and even those taking Viagra may be safe engaging in sexual activity if they are receiving the proper medical care, according to a study published in the journal Mayo Clinic Proceedings. Reduced blood flow to the penis and nerve damage is the most common physical causes.