Patient in TV Documentary
Author: Webmaster Date: 1/9/2003

"Operation enables Maire Hanley to walk the Great Wall of China for charity"
---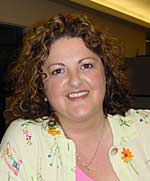 Maire Hanley, a patient of Mr David Johnson, Orthopaedic Surgeon underwent an operation on 2nd December to correct the position of her kneecap. Two weeks ago, Maire was told her kneecap, which has leaned to one side since birth, could end her chances of taking part in the fundraising trip of a lifetime.
Maire will be setting out next April, only 5 months after her surgery, to walk the entire length of the Great Wall of China between April and November.
"Mr Johnson told me I would barely make it through a day of training, never mind walk 4000km" said Maire, who lives near Westbury, Wiltshire. "It was lot more serious than I'd ever imagined. It was such a shock."
However Mr Johnson has led the way in exactly the type of corrective operation Maire needed.
"This particular operation is a procedure we have been pioneering for several years," said Mr Johnson, "the results have been very encouraging, and much better than other techniques which have previously been used. In the past, treatment of anterior knee pain has been very unreliable."
The walk will be a record- breaking adventure involving hundreds of women and celebrities who will walk in two-week increments with Maire and her friend Karen Churches throughout the 8 months.
With the help of 850 volunteer women, the pair hope to raise £1 million for the charity Breakthrough for Breast Cancer.
This sparked interest from documentary makers.
Media Ambitions who are making a programme to be broadcast on network TV next year. A film crew interviewed Maire and Mr Johnson in the hospital on the day of surgery.
Maire and Karen are appealing for volunteers, who will need to raise at least £2,650 to participate but will not have to provide all their own equipment and clothing. For further information telephone Charity Challenge on 0208 557 0000 or log on to the website www.greatwalkofchina.org.
Link: www.GreatWalkofChina.org.
---