International Fencing Champion Returns After Surgery
Author: Webmaster Date: 9/1/2001

"British Fencer finishes 8th in Europe three weeks after knee surgery"
---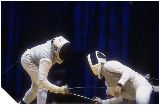 Samantha Martin retuned to training 10 days after arthroscopic Knee Surgery, and successfully returned to the Senior British Team only three weeks later. Samantha was delighted at gaining an 8th place in the Senior European Fencing Championships in Geneva.
She said "I hope that I can repeat this result in my next competition".
Orthopaedics Surgeon David Johnson said "It is always difficult undertaking surgery so close to a major international event. However Samantha worked hard with the physiotherapists and trainers and successfully came through which was a great effort". Samantha's next championship is the Senior World Championships in November.
Link: Knee Surgery
---